Who Am I Now? heARTmaking in traditional collage
Loss changes how we perceive our roles in life. "Now that my child has left home, who am I as a mother?" "The future I had envisioned disappeared when I signed those divorce documents. What will my future look like now?" "I've lost my job. Now what do I do with my life?"  
This was not the life you had planned, was it? But it is still yours to live even if it is not proceeding according to your design. So what do you do with it? What do any of us do when faced with an enormous life challenge? You keep moving: one breath at a time, one heartbeat at a time, and eventually one step at a time. You realize that you are not in control of the future but you can develop a vision for how you want to live. You can dream. You can hope.  
During this workshop we will examine three essential questions:
Where have I been?

Who am I now?

Who am I becoming?
Using collage you will create a single or multiple images in response to these questions. We will have all the materials you need and will guide you through the experience.  
And the day came when the risk to remain tight in a bud was more painful than the risk it took to blossom." ~ Anais Nin
Sound interesting? Still not sure? Here's a bit more information:
This workshop is for anyone learning how to cope with a loss (divorce, death of a loved one, loss of career, change in health, etc.)

You will have a chance to acknowledge your loss in compassionate community and using heARTmaking to transform your experience of it

You are naturally creative but we will provide step-by-step instructions so you can create your image(s)

You will be gently guided through this healing heARTwork experience

If you choose, you may bring copies of photographs to include in your heARTmaking

We will provide refreshments and all supplies you will need to create your finished piece

Cost: $46 per person 
How To Register
Registration is closed. Contact me at 404-377-5160 if you would like to schedule this workshop for a group.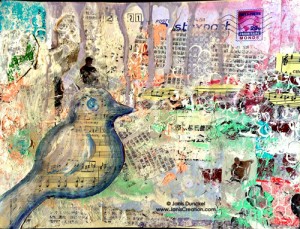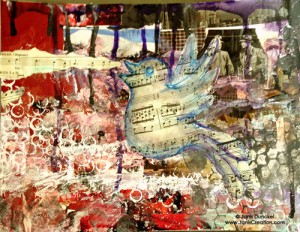 Since the age of sixteen Janis has worked as a professional artist in a variety of ways, including painting for the Franklin Mint, illustrating furniture for ads, directing the art department of a software company, and creating art for several newspapers including The New York Times. Her work has been highlighted in shows in the Atlanta area, Paris, France and as far away as Japan. Janis has taught art classes for children and adults in Connecticut, France and Georgia. Currently she is involved in teaching art camps, freelance illustrations: such as wall murals, children's books, fine art, drawing houses, CD covers and pet art. One of her most recent art collectors is Tyler Perry. Find Janis on Facebook at http://www.facebook.com/JanisDunckelArt or on her website at http://janiscreation.com/.